I thought it was about time I updated my original post on this subject, which was published in 2010 – you can find that here, and it's still worth a look as there's a primer on the different types of reverb and their history at the beginning.
There have been a few significant developments in the world of reverb plugins in the last couple of years, and this is reflected in a brand-new, up-to-the-minute list below.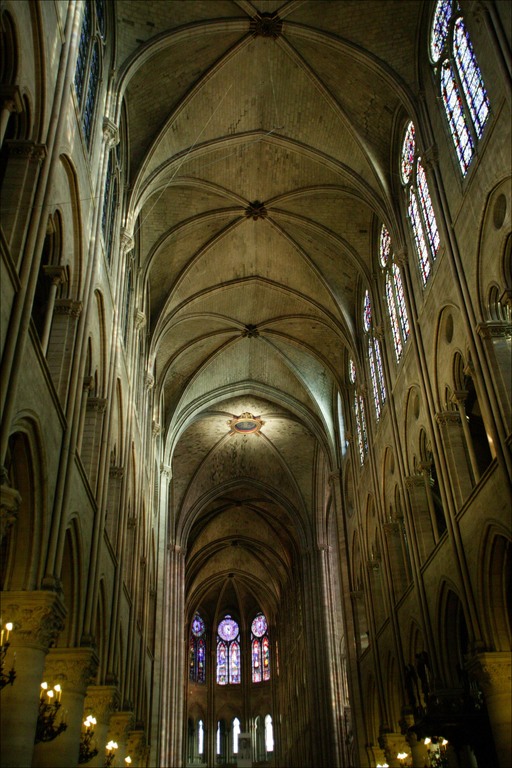 Perhaps the most apparent difference is that many producers (myself included) are not quite so obsessed with convolution reverb – at least, not to the exclusion of other reverb types – and the idea that convolution necessarily always offers the best results. This seems to be partly because, as beautifully realistic as convolution reverb can be, it's not the quickest/easiest reverb to get sounding good where it counts – in the mix.
There's also the question of CPU efficiency, which never really goes away: even in these days of multi-processor CPUs, software processing demands rise hand-in-hand to take advantage of this increasing computer performance. Convolution reverbs are usually processor hogs because of the way they generate their ultra-smooth realism.
And so as if to answer these issues, there has been a resurgence in the popularity of good old algorithmic reverb designs and 'classic' digital sound emulations (a trend which we previously saw with compressor plugins). More developers have been releasing really good reverb plugins that owe their character more to the celebrated digital units of the 80′s than they do to the raw, pristine sound of a real cathedrals impulse response.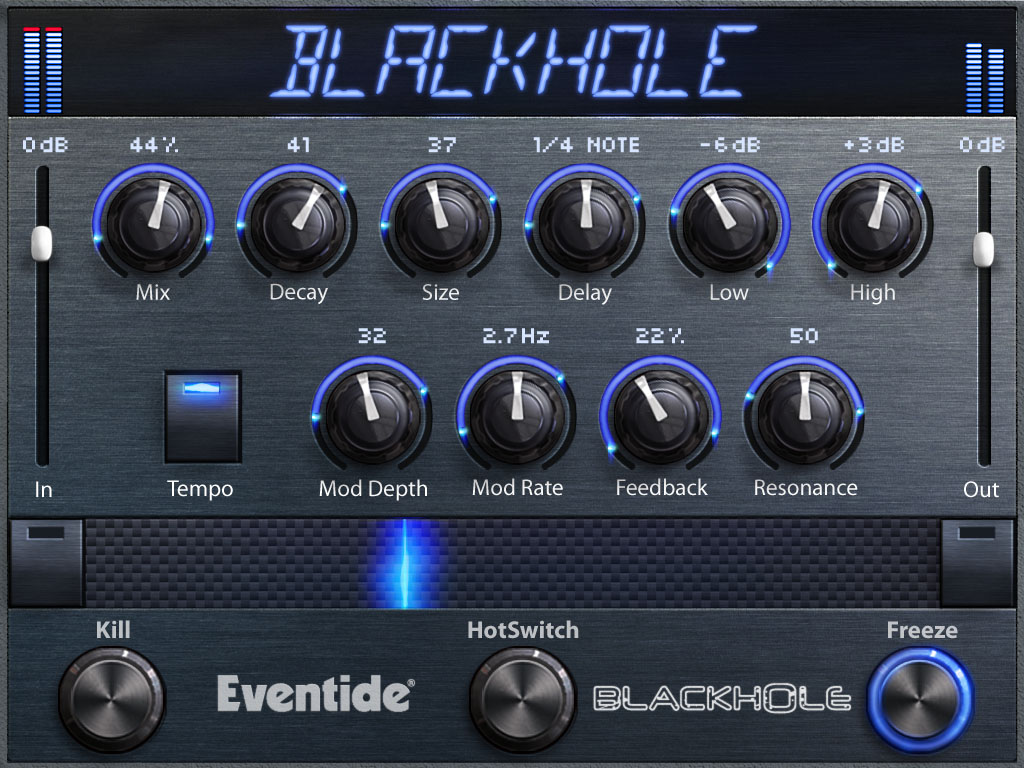 This 'new generation' of algorithmic reverbs offer characterful, musical sounds while having a relatively small 'CPU footprint'.
I don't mean to give the impression that convolution is 'over', of course. You still can't beat it for realism, and for many sound design and mix situations that's the most important thing. But it's a question of having a range of tools that are good at different things: 'horses for courses'.
And with plugins like the Valhalla series coming out of leftfield with weird (but weirdly satisfying) interfaces and amazing sounds, and with the many possibilities offered by plugins with loads of 'sound design and FX reverb' features like 2CAudio's Aether or Eventides Blackhole, it's cool to see there are plenty of new ideas still coming through for software reverb, with new spins on old favourites, innovative new features and new ways of implementing them in our music.
So enough rambling, see the list below:
——————————————————————————–
The 10 Best Reverb Plugins – The 2013 List
Several of the plugins have remained on the list from before, but there are some important additions (and a couple of removals). The categories have been updated too.
As before, I've covered every type of reverb and all price ranges with the categories, and included plenty of alternative choices for most of the categories.  There's definitely something for everyone here.
Don't forget: "In the end, 'best' is highly subjective when it comes to reverb – there is a lot of choice out there, and picking a personal favourite is literally a lot like choosing a favourite colour."
1) Best Free Reverb:
Variety Of Sound EpicVerb


Not a brand new plugin by any means, but in my view the best free all-rounder, this algorithmic stereo reverb features a handy switch between two general settings – "reverb" or "ambience". It also features six Early Reflection types, so you're covered for the typical Hall, Plate and Room models, as well as a couple of echo FX models. Smooth and characterful sound: Developer Bootsy does it again!
More info here, download here.
Also check out:
Smartelectronix / Magnus Ambience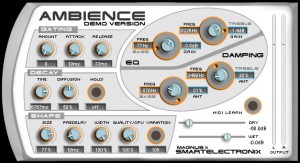 Featured in my original list, I would still struggle to find a much better freeware algorithmic reverb.
More info and download here.
——————————————————————————–
2) Best Convolution Reverb:
Audio Ease Altiverb 7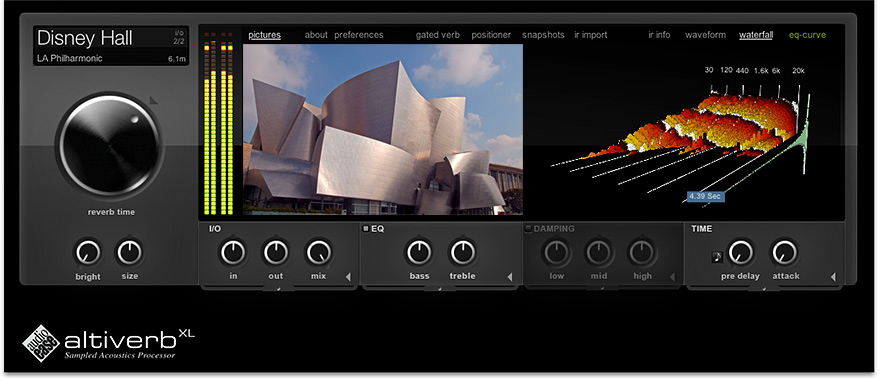 The established daddy of all reverb plugins, and something of an industry standard. No, it's not cheap, yes you need a powerful computer to run it… but the sound and flexibility it affords is generally well worth it. The XL version also includes surround reverb and a TDM version for Pro Tools.
More info here.
Also check out the free convolution alternatives:
Altiverb uses it's own proprietary format for it's Impulse Response files, but there are many places to acquire free IRs to play with, and here are two great free plugins for loading them into:
Liquid Sonics Reverberate LE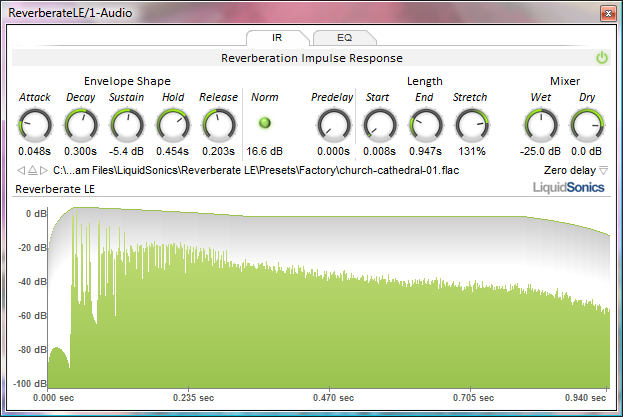 More info and download here.
Knufinke SIR1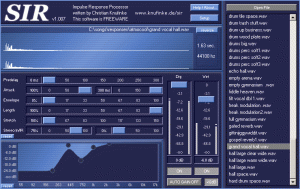 More info & download here.
——————————————————————————–
3) Best Reverb For Sound Design & FX:
2CAudio Aether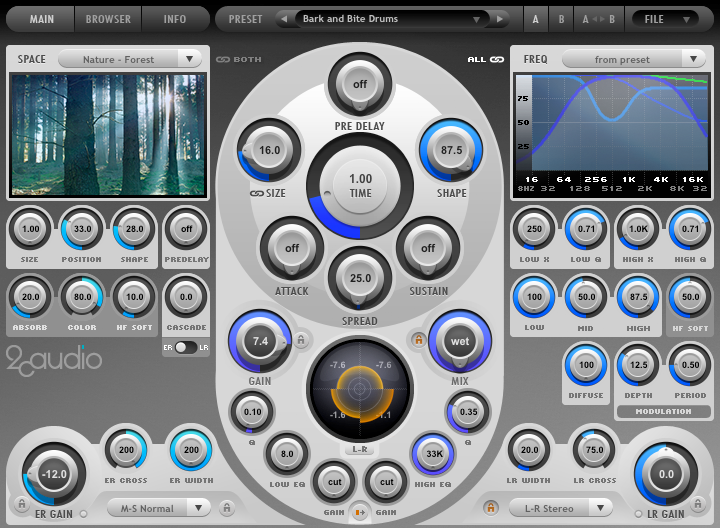 A few people mentioned how they missed Aether from my original list, so here it is! I've been using this one a lot more recently, having cottoned on to what many people have known for ages: the sheer number of controls seem intimidating and pretty over-the-top  for most straightforward mix applications, but where Aether really comes into it's own is as the ultimate reverb for enhancing sound design and spot FX: hits, cinematic booms, club track-style swirls of shifting reverb clouds that can add a lot of extra movement, vibe and overall epic-ness to a track.
More info here.
Also check out:
Eventide Blackhole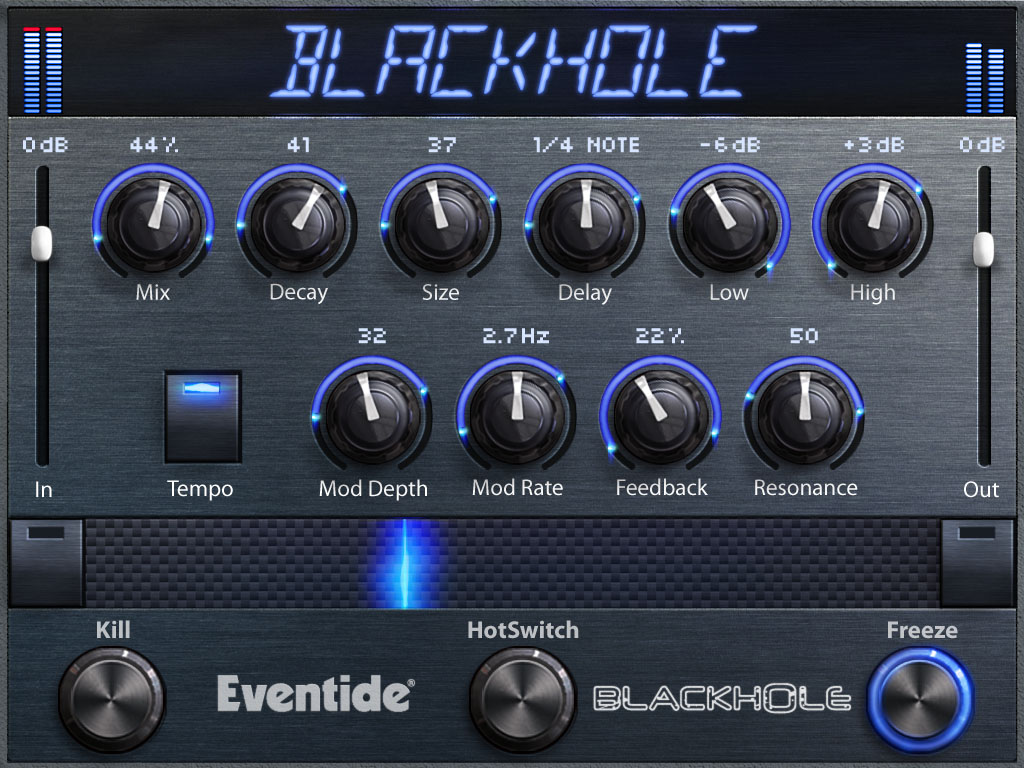 Blackhole is based on an algorithm from Eventide's hardware processors and guitar stomp boxes, and is basically designed purely for sound design and effects creation, rather than having any pretense of trying to offer a bit of everything to cover all the bases. Plus it's the only reverb I know of that seems to be designed for 'performing' reverb changes, with a ribbon strip for super-easy real-time morphing between different configurations. Best reverb for live performance/DJing, anyone?!
My bet is we'll see a lot more of this style of plugin in the near future.
More info here. Buy the Eventide Blackhole at Zzounds.com.
——————————————————————————–
4) Best Bundled / Series Reverb:
Waves Renaissance Reverb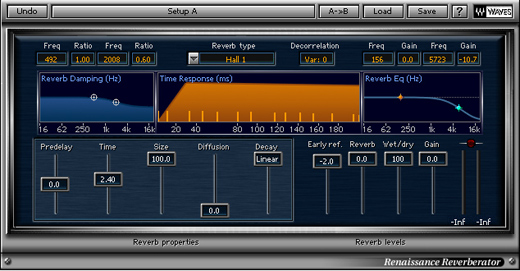 Some of the most useful reverbs are parts of bundles or series of plugins that work really well together.  As I mentioned previously, the Renaissance Reverb is my  personal go-to reverb, as are quite a few of the other Waves plugins. A well balanced reverb in terms of overall sound, versatility and interface/usability, with simple but effective graphic EQs for quick shaping of the reverb return signal – great for efficiently slotting the sound into a busy mix without adding clutter or low-frequency mush.
More info here, and you can buy all the Waves plugins here: Click Here to Buy

Also check these out from the Waves bundles:
Waves TrueVerb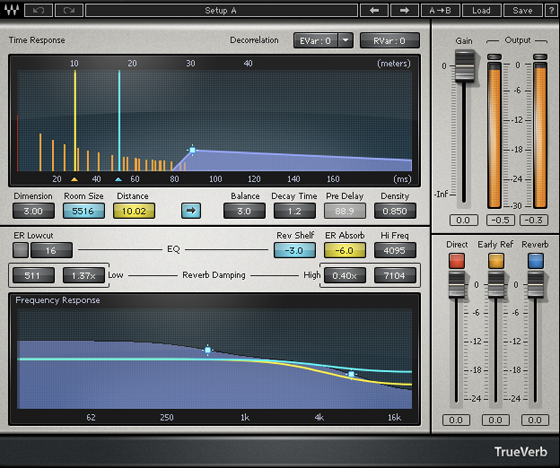 Another Waves reverb plugin, but this one is more of a room emulator than a conventional reverb like the Renaissance Reverb. Together, they're an excellent combination.
More info here.
Waves IR1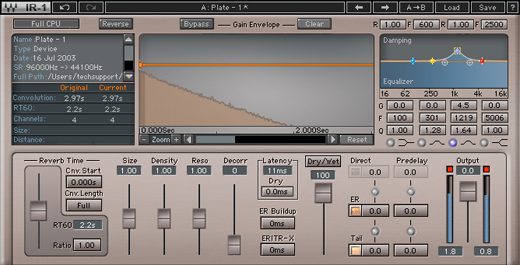 The IR1 is a convolution reverb, with some great presets that are based on many famous venues and spaces from around the world. So if you want to hear what your music would sound like in the Sydney Opera House or at legendary NY punk rock club CBGBs, this is the reverb for you.
As far as I know, the IR1 is also unique for it's parametric controls, whereby you can plot your settings on the interface display in the same way as you would on a parametric EQ.
More info here.
——————————————————————————–
5) Best Reverb With NASA-Inspired Interface:
ValhallaDSP Room and Shimmer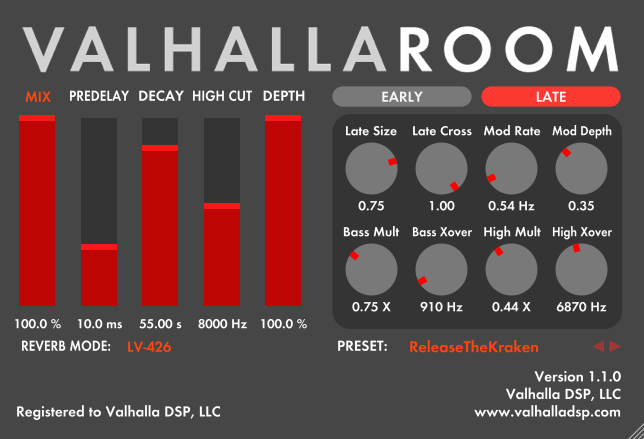 There's a familiar cycle that people go through when they first encounter ValhallaDSP plugins. Step 1: Smirk at the oversized, toy-like interface. Step 2: Listen to the presets and tweak the controls to taste, turning that smirk into a big, satisfied grin. Step 3: Realise how quickly and easily you were able to make those adjustments, thanks to the 'ridiculous' interface that is in fact "influenced by NASA Human Interface specifications & the Swiss School of graphic design", and marvel at the sound you can get for a mere $50.
Lots more info here.
Also check out:
 ValhallaDSP Shimmer

ValhallaRoom is very versatile on it's own, but to bring the epic-ness to your sounds you might also want Shimmer, which is specifically designed to create large, smooth-sounding tails for booms, trailer hits and other more sound design-y elements.
More info here.
Audio Damage Eos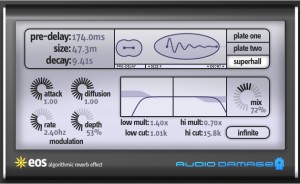 Before founding ValhallaDSP, plugin designer Sean Costello was the man behind Audio Damage's reverb plugin Eos, which featured in my original list.
More info here.
6) All-Round Pro-Level Algorithmic Reverb:
Lexicon PCM Native Reverb Bundle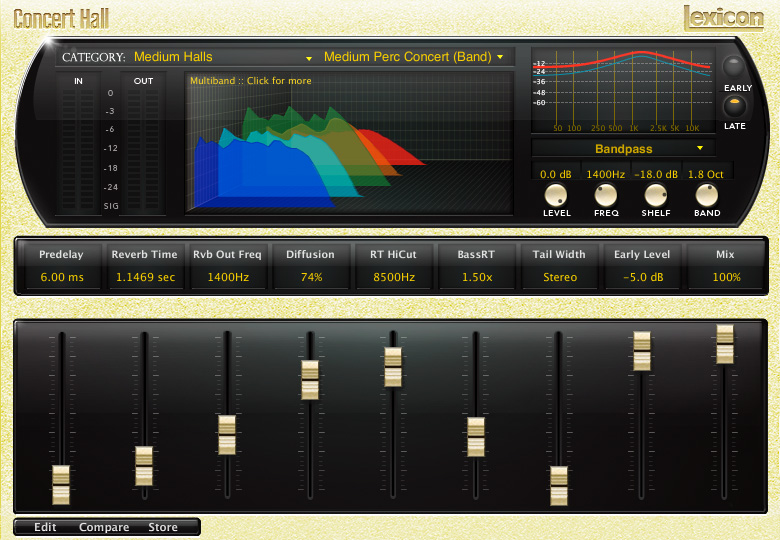 I rather facetiously put this reverb collection in it's own category of Most Expensive Reverbs last time, but since then the pricing has dropped considerably so it's now a much better deal, and a realistic proposition for small-studio producers (and not just larger facilities looking to replace their existing hardware, which is probably who these were initially targeted at). So enough about that, at the end of the day these are pretty much the best algorithmic reverb plugins you can get commercially – the sort that everyone else looks to as a benchmark.
(In fact, it's worth noting here that ValhallaDSP's Room, mentioned above, has been touted as a budget alternative, for it's ability to get pretty close to the fabled Lexicon sound).
More info here. Buy the bundle on Amazon here.
Also check out:
ArtsAcoustic Reverb ('AAR')
I couldn't not mention ARR this time around, and this seems like the most appropriate category. Many producers swear by this one, which was designed specifically with the purpose of delivering flexible and convolution-rivalling reverb, whilst also keeping CPU overhead to a minimum.
It achieves those goals, and while not as flash or as characterful as the Lexicons (an unfair comparison perhaps), it does the job at a significantly lower price. [Correction: I originally quoted the Christmas discount price of $130; the normal price is $189.]
More info here.
Wave Arts MasterVerb 5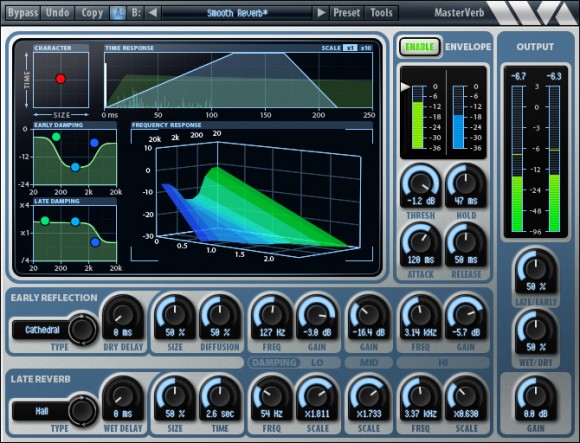 Another excellent professional algorthmic reverb, that holds it's own amongst some classy competition.
More info here.
——————————————————————————–

7) Best Vintage Or 'Character' Reverb:
Softube TSAR-1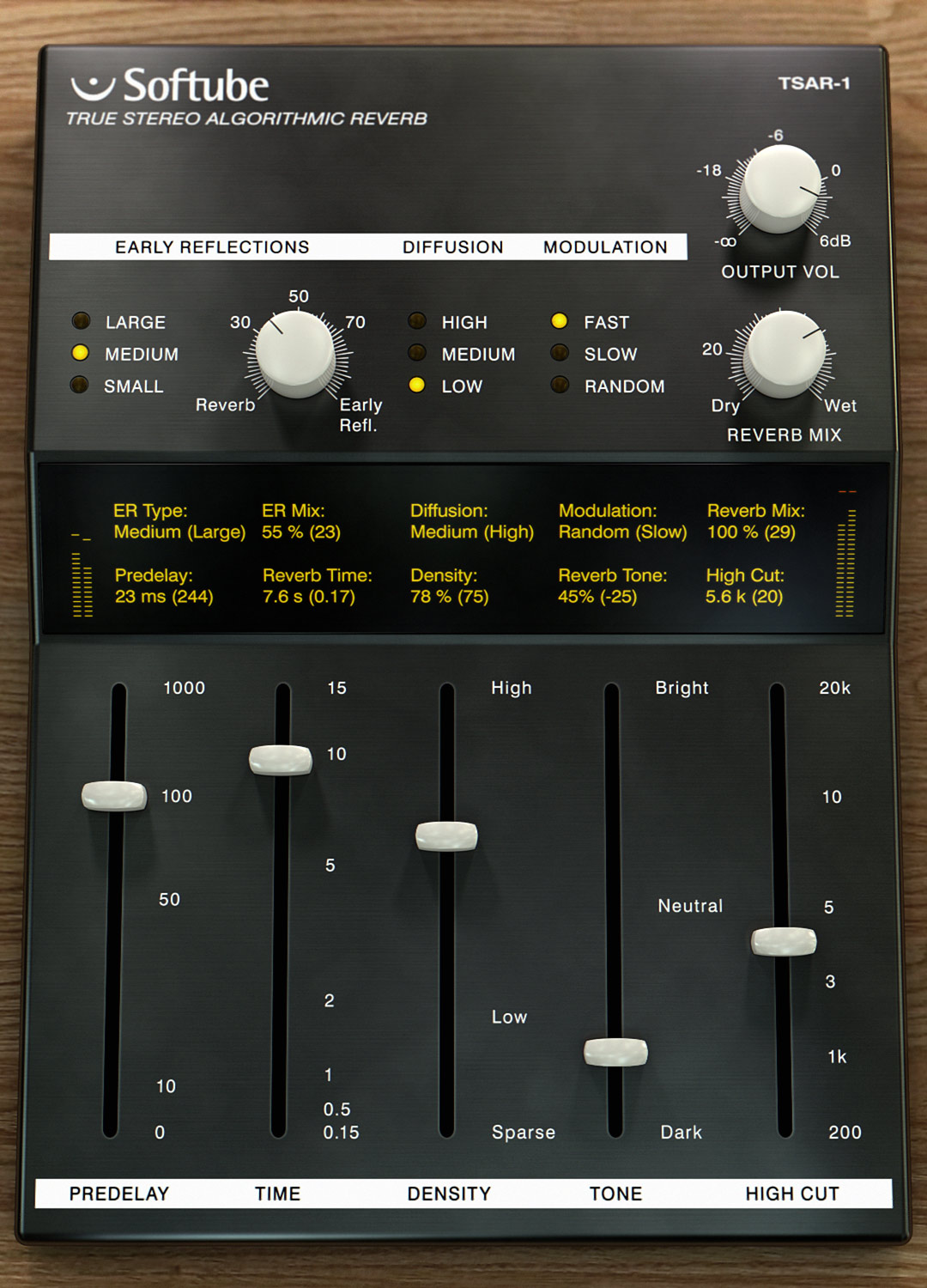 Several of the plugins on this list could slot into this category (including the UA EMT 140 Classic Plate reverb here), but special mention has to go to Softube's TSAR-1. A point worth noting about the TSAR-1 is that, unlike the UA EMT 140 Plate for example, it's not a straight 'emulation' of any one piece of celebrated vintage gear. Rather, it takes the common characteristics of much of the best-loved classics, and brings them all together with a highly useable, somehow 'authentic' sound (if that's not an oxymoron?), and a very cool interface. The best of all worlds, and perhaps an example of where more plugin designers will (hopefully) go in the future.
More info here.
Also check out:
112dB Redline Reverb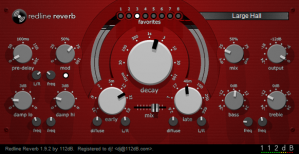 Not a vintage-style plugin exactly, but this reverb has as much character and warmth as anything out there. Maybe it's because 112dB seem so good at bringing the warmth in general, with their very tube-sounding compressor, limiter and preamp plugins also being highly regarded. Developed by Martijn Zwartjes, who used to work at Native Instruments, the Redline Reverb's first incarnations were the Rev-6 and Space Master ensembles for NI's Reaktor.
More info here.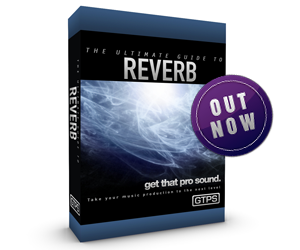 ——————————————————————————–
8) Best Reverb Bundle Under $100:
IK Multimedia Classik Studio Reverb ('CSR')


Featuring four reverb plugins, covering Plate, Hall, Room and Inverse types, CSR is a one-stop shop for many producers and guitar players. Each module can work in either Easy of Advanced mode: Easy for when you just want to get something down fast with the minimum of fuss: Advanced when you want to spend more time finessing the perfect sound – and it does have an awesome, 'classic' sound. Which of course also means it's perfect for beginners, who can gradually get to grips with the more advanced parameters at their own pace.
More info here. Buy IK Multimedia Classik Studio Reverb bundle at Zzounds.com.
——————————————————————————–
9) The Unsung Heroes:
Your Sequencer's Reverb
Everything I said last time about not overlooking your host DAWs bundled plugins is even more true than before, as the DAW developers continue to cram as much quality as possible into their offering in order to get ahead of the competition, in a massively competitive market. Which is great news for us producers really…
The best things about using the reverb plugins supplied with your sequencer are that a) you don't have to pay more, and you're getting the most out of the investment you've already made, and b) they are likely to run more efficiently within their host program, having been optimized for that, than a third-party plugin might.
Special mention here goes to FL Studio (which has become uber-popular in the last few years, for good reason), and the bundled Fruity Convolver plugin.
——————————————————————————–
10) Best 'Price-To-Sound Ratio' Reverb:
D16 Toraverb

Would also be a contender in a 'Best Reverb For EDM' category, as D16 are perhaps best known for their software versions of classic drum machines and the TB-303. Toraverb doesn't try and cover everything – it's not Aether – but what it does do is generate lush, 'punchy'-sounding reverb that is just what you need for all kinds of modern and electronic music. What you get for about $35 is just insanely good!
More info here.
——————————————————————————–
That wraps up the best reverb plugins in the world today. I know a lot of people found the original list useful, and I'm hoping this update will provide you with a definitive outlook on the state of reverb in 2013. As always, leave your comments, thoughts and suggestions below.
And if you found this post useful, you'll probably also be interested in this: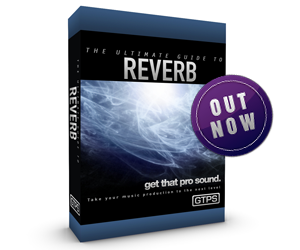 Click the link above to find out more!